Price includes Room price and 20% VAT. 10% Discount for 3 or more nights stay. For Double/Twin rooms a single occupancy discount of 10 GBP may be available on request.
Group bookings for more than 4 are available from 25-35 GBP per person per night. Please contact us for more information or book a room now.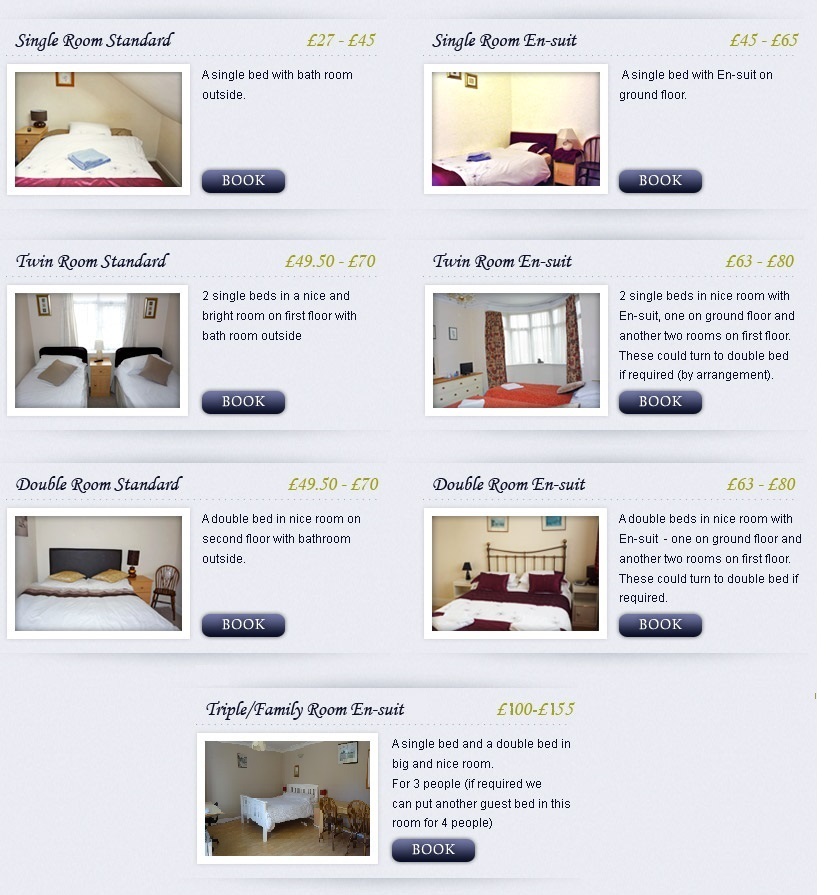 Cancelation less than 72 hours prior to arrival; we reserve the right to charge for the accommodation booked. Group bookings (more than 2 rooms) or stays of more than 3 nights must give at least 10 working days notice of cancellation, otherwise the accommodation booked will be charged. All bookings require a deposit of first night's stay, which is nonrefundable. If the required notice is given and confirmed then there will be no charge except for the deposit. All cancellations should be made BOTH in writing (post or email) AND by telephone. You will be given a cancellation number to confirm that no other charge will be made apart from the deposit.

Cash and credit / debit card payments are welcome. Visa and Mastercard are accepted. A credit / debit card is required from all customers as part of our booking procedure, even if this is not the method that will be used for payment. The Lantern House Cambridge reserves the right to pre-authorize credit cards prior to arrival.Payment is made on arrival. There is No surcharge for card payments. If any damage or losses are incurred these will be charged. Guests should inform the staff of any damage or breakage or loss they have caused. If any breakage or damage etc is discovered after the guest has checked out that was not reported to the staff then that will be charged at a higher rate.

Bedrooms will be available from 2.00pm onwards. If you wish to arrive earlier please ask and we will try our best to meet your requests. All guests please inform us of your intended arrival time. We might not be in Lantern House if we are not expecting anyone.

If you plan to arrive after 3.00 pm., please inform reception. The entrance door is locked, please ring the door bell or telephone us so we can let you in.


Check out time is no later than 10.30 am.(11.30 w/e), please leave the room by this time. If you wish to check out later than this please confirm with us on arrival. If you want to store your luggage for a short time before you actually leave Lantern house, we are happy to provide this service but we are unable to accept responsibility for valuables. Please leave/return the keys or 50GBP will be charged for missing keys.